What can you say about a villain whose birth anniversary is even recognized by Google Doodle? That is exactly what happened today on Amrish Puri's 87th birth anniversary. Puri is one of the most legendary actors we had whose magical performance will always be remembered by his fans. He is one of the best villains in the history of Bollywood whose laugh and acts made the characters come alive.
Today on his 87th birth anniversary we will take you to the past by remembering five of his most unforgettable and iconic negative characters:
Mr. India: Mogambo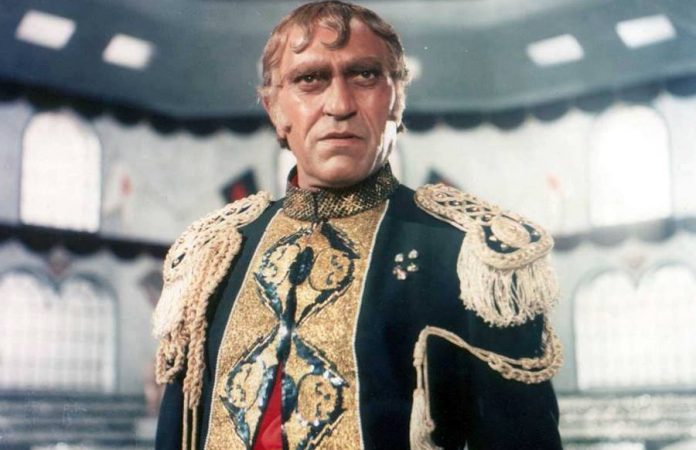 Mr. India is one of the most entertaining Hindi films- for children and adults alike. Remembered even today, every character in the film was highlighted, especially the negative role played by Amrish Puri. He portrayed the character of Mogambo with aplomb. The film, directed by Shekhar Kapur, had Mogambo not just as a venomous villain but also one with a rather colorful look- blonde hair, jazzy costumes, and gemstone rings packed on fingers that clicked on his 'throne' before he spoke! And how can forget his dialogue, 'Mogambo Khush Hua'! 
2. Damini
Not just a goon, Amrish Puri also made us fall in love with him when he played the role of a criminal lawyer in Rajkumar Santoshi's 'Damini' which featured Meenakshi Sheshadri, Rishi Kapoor and Sunny Deol in key roles. In the movie, Amrish is seen as a person, who can go to any extent to win a case. His powerful dialogues delivery won him brownie points in 'Damini'.
3. Dilwale Dulhania Le Jayenge: Bauji of Simran
Shah Rukh Khan starrer DDLJ had Amrish Puri playing the bauji of Simran (Kajol). Amrish Puri portrayed the grey character of a strict Indian father who means well but does not know how to express his love for his daughters. We can never forget the end scene where Bauji finally let go of Simran, asking her to follow the path of love and live her life with Raj. The dialogue, "Ja Simran, ji le Apni Zindagi" became one of the memorable lines of Hindi cinema.
4. Gadar: Father of Sakina
In the film, Amrish Puri played the aristocratic father, Ashraf Ali, of Sakina (Amisha Patel). This was a father who is simply not ready to accept his Hindu son-in-law Sunny Deol for his daughter Sakina as they are Muslims. He plays the baddie till the end but finally accepts their relationship, leading to a happy ending.
5. Nayak: Chief Minister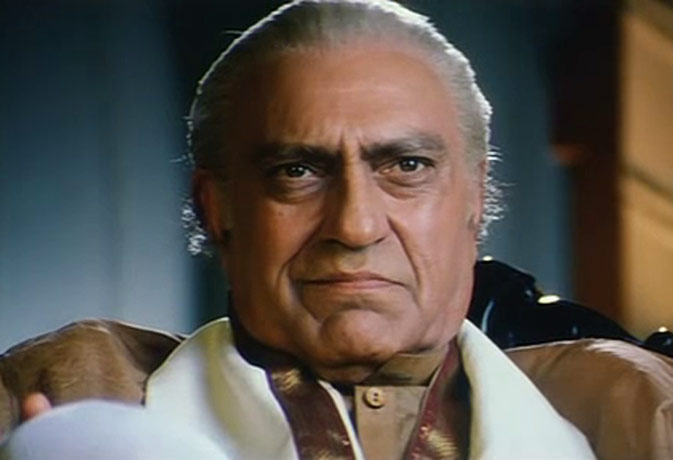 In the political drama, Amrish Puri played a chief minister, Balraj Chauhan, who challenges Anil Kapoor, a journalist, to take his place for a day. When Anil Kapoor as Shivaji remains the CM because of everyone's trust in him, Chauhan burns Shivaji's parents alive. With his villainous presence in the film, he was the perfect arch-rival to Anil Kapoor's heroic role.
6. Dong from Tehelka –
Well, this was indeed one of the most unrecognizable roles ever played by Amrish Puri. In this Anil Sharma directorial, Amrish Puri plays the role of General Dong who is an evil dictator of a kingdom called Dongrila and his sole mission is to destroy India. His dialogue 'Dong Kabhi wrong Nahi hota' got really popular.
7. Karan Arjun: Thakur Durjan Singh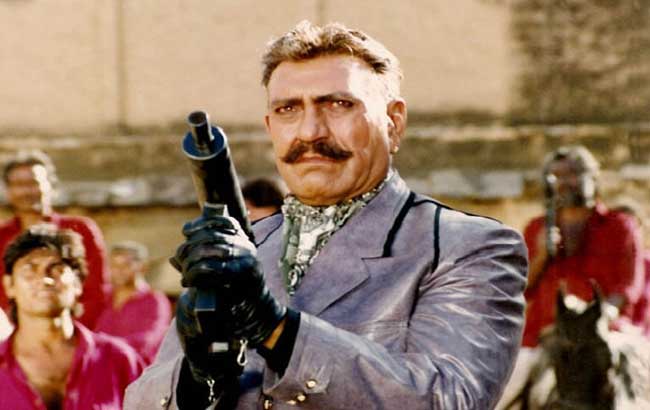 Karan Arjun played by Salman Khan and Shah Rukh Khan respectively, had Amrish Puri as Thakur Durjan Singh, the man, who killed Karan and Arjun's father and destroyed their happy life. His presence, his evil vibe, his dialogue delivery was on-point and made this reincarnation drama go up several notches.
We miss his presence even today as Hindi cinema couldn't have asked for a better villain!