It's International Yoga Day today! As we all know many Bollywood celebrities avow for the oldest fitness regime to keep themselves in healthy shape and cultivate peace of mind.
Celebrities like Kareena Kapoor Khan, Shilpa Shetty Kundra, Bipasha Basu Singh Grover, Lara Dutta, Malaika Arora, and others make sure to do yoga daily and keep themselves tough and healthful. They have even endorsed the fitness regime in various ways possible and spoken a lot about yoga over the years. Let's take a look at how yoga has helped these celebrities.
Kareena Kapoor Khan
Bebo after giving birth to little munchkin- Taimur Ali Khan is shedding the extra kilos and is getting back in shape as she had before pregnancy. Other than visiting the gym regularly, Kareena even does yoga. It was also reported that to maintain her fit body Kareena did 50 Suryanamaskars and 45 minutes of different yoga asanas. She had even introduced yoga to her best friends Malaika Arora and Amrita Arora.
Shilpa can surely be considered as the epitome of yoga in Bollywood. The actor has been practicing yoga for many years now and is endorsing the same on her social media pages. She even released a DVD of yoga and also has her own Youtube channel where she performs different asanas and helps viewers do the same too. Speaking of yoga, Shilpa stated Yoga is a science and still, people don't understand it. Just losing weight is not enough, maintaining weight is a discipline. Yoga is that discipline.
Bipasha Basu Singh Grover
After Shilpa, Bipasha is another actor who is known to have one of the fittest bods in Bollywood. The actor along with her husband Karan Singh Grover is seen sharing pictures and videos of them performing yoga together. Earlier, like Shilpa, Bips had also released a DVD of yoga. Speaking about the same, she stated to a leading daily earlier, "The idea behind releasing my yoga DVD is to make more people aware of yoga, and achieve a synchronized growth of mind, body, and soul."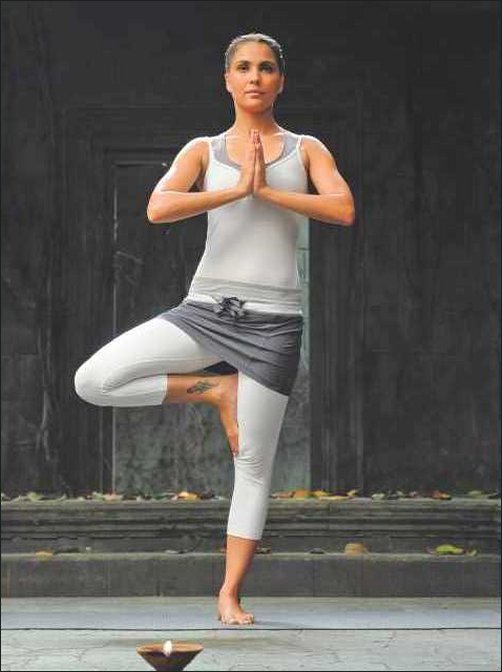 Lara is practicing yoga for more than a decade and she inspired everyone when she released a DVD performing prenatal yoga. During pregnancy, Lara kept herself in shape by performing yoga. Even with the heavy baby bump, Lara practiced yoga with ease and comfort. When asked about the importance of yoga in her life, Lara has earlier said, "Yoga is the best thing that happened to me. I firmly believe that yoga coupled with strength training creates a stronger, leaner and more flexible body. I have been a yoga practitioner for over 12 years and the benefits that I've reaped have been immense."
Malaika has snapped post yoga session almost every day. Bollywood's fittest lady is winning hearts with her fit body in her 40s. Malaika is into yoga for many years and shares several pictures and videos of performing the asanas on her Instagram page.