It is not very often that you find a successful Bollywood film that is commercial, and yet heartfelt. Movies, nowadays have become a major part of our lives not just for entertainment basis but for learning ample lessons on love, life, friendships, relationships, family, etc. Here are some movies that touched audiences heart  and are still all-time favorites:
Yeh Jawaani Hai Deewani (2013)
'Yeh Jawaani Hai Deewani' boasted of all that it takes to make a typical Bollywood masala film – romance, groovy music, exotic locations, a star cast to die for, popular dance numbers. But beyond all of that, it captured the essence of life. One of the best coming-of-age movies you can find in Bollywood, 'Yeh Jawaani Hai Deewani' captures this young and restless generation, their idea of romance, their friendships, their dilemmas perfectly well.
2. Namastey London (2007)
A guy from a small village in Punjab gets married to a Britain returned, bratty NRI and falls in love with her only to realize she loves someone else. How he wins her heart forms the rest of the plot of the film. This one will hit you right in the feels.
3. Tanu Weds Manu Returns (2014)
While the first one did win a lot of appreciation from the critics, it was the sequel that had the whole country literally rolling on the floor laughing, thanks to Deepak Dobriyal and Kangana Ranaut's hilarious performances. The film also had a new take on romance with the unconventional Datto in the lead.
4. Rehnaa Hai Terre Dil Mein (2001)
This one bombed at the box office but there was something about this love triangle between debutante Diya Mirza, R. Madhavan and Saif Ali Khan that caught up with the masses slowly and steadily and became one of the best romcoms in Bollywood.
5. Rab Ne Bana Di Jodi (2008)
This film that was about a sweet but boring man trying to be someone else to win his wife's love stunned everyone with the amazing chemistry between the superstar Shah Rukh Khan and the much younger debutante Anushka Sharma.
6. Dum Laga Ke Haisha (2015)
'Dum Laga Ke Haisha' is about a small town guy who resents his overweight wife who is nothing like the beautiful woman he always wanted as a partner at first but eventually falls in love with her, just the way she is. This film is uproarious in most parts and heartwarmingly tender in others. It also teaches a very important lesson in love.
7. Cheeni Kum (2007)
Commercially unsuccessful but heartwarming nevertheless, 'Cheeni Kum' is a mature love story between the two unlikeliest of people – a man in his 60s and a woman in her 30s. Some splendid performances by Tabu and Amitabh make it one of the delightful romcoms ever.
8. Break Ke Baad (2010)
A rather underrated movie, this one talks about the unspoken truths about modern-day relationships. Imran Khan and Deepika Padukone appropriately cast as the sincere, committed guy and the free-spirited, ambitious girl respectively, some really innovative writing by the scriptwriters, some great music – this film should have gotten way more appreciation than it did.
9. Jab We Met (2007)
Depressed guy meets a fun loving, crazy girl and they take on an unforgettable journey together. The magnum opus of Shahid and Kareena Kapoor's career, this film is definitely one of the finest works by Imtiaz Ali. 'Jab We Met' was the one film that actually redefined romance in Bollywood.
10. Kal Ho Na Ho (2003)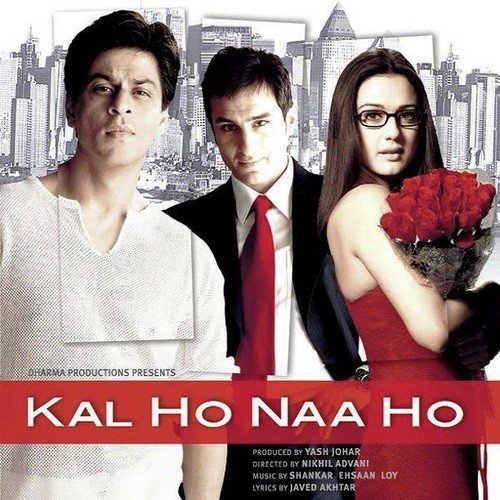 A dying man decides to unite his lady love with her best friend. It's been more than 12 years since this film released and it is still fresh as ever. SRK, Preity Zinta and Saif Ali Khan deliver some award-worthy performances in this film. When they're funny, you can't stop rolling on the floor laughing; when they're romantic, they make you want to fall in love; and when they're tragic, man, keep the box of tissues ready. This film is one emotional rollercoaster.
Veer-Zaara
The film features the King of Romance, Shah Rukh Khan and Preity Zinta in the lead. SRK plays the role of an Indian Airforce Pilot who falls in love with the daughter of a Pakistani renowned politician which is played by Preity Zinta. The drama that comes between when the two lovers meet and live happily ever after makes it an interesting tale of love performances from the cast of the movie are top-notch. The lead actors share tantalizing chemistry which is reflected in the outcome of the movie. A movie makes you believe in the power of love all over again.