Celeb babies have been ruling the internet like how especially since the advent of paparazzi and social media. We all know that these celeb kids and children are born with a silver spoon but their hard work and perseverance make them who they are really. Today, we bring to you such celeb daughters who are riding high in their respective careers and who are a look-alike to their mothers. So, without further ado, let's look at Bollywood daughters who look like their mothers.
1. Janhvi Kapoor and Sridevi
The world lost one of the finest actors that cinema has ever seen when Sridevi passed away in Dubai on February 24, 2018. But her daughter, Janhvi Kapoor has definitely made her mom proud with the immense success of her debut film, Dhadak. Janhvi is the elder daughter of Sridevi and Boney Kapoor, her younger sibling being- Khushi Kapoor. In her childhood, Janhvi had written an emotional note for her mom, Sridevi which could be read as:"Your whole life you kept giving, and all I wanted was to do that for you too, Mumma. I want to make you so proud. Every morning, all that I would do was with the hope that one day you'd be as proud of me as I was of you. But I promise I'll wake up every day still with that same thought. Because you're here and I can feel you."
2. Sara Ali Khan and Amrita Singh
Sara Ali Khan, the star of Kedarnath and Simmba, is truly a spitting image of her mother, Amrita Singh. Sara's father, as we all know, is Saif Ali Khan who got separated from Amrita and went on to marry, Kareena Kapoor Khan. Amrita Singh, in an interview, shared what advice she has given to Sara now that she is a Bollywood star. The yesteryear actress said:"It's a job where you just have to be honest with your emotions. I have asked Sara to love the camera because if you give it that much love and respect, it will love you back." She further added, "I hope Sara does really well in life. I want her to stay extremely grounded, focussed and committed to her work. It's a tough job at the end of the day. So, she should just keep moving ahead and do the right kind of films."
3. Alia Bhatt and Soni Razdan
These two make one of the most famous mother-daughter duos of Bollywood. And undoubtedly, they look strikingly like each other. Recently, on Soni Razdan's birthday, Alia had the sweetest wish for her mother. Alia's birthday wish for her mom could be read as:
"Happy Birthday my stunning mommy. thank you for being a classic example of beauty INSIDE OUT! No amount of words can express how fortunate I am to have a mother/friend/partner-in-trying-different-diets like you!! Even if I say it a million times a day it won't be enough. But, I love you."
4. Twinkle Khanna and Dimple Kapadia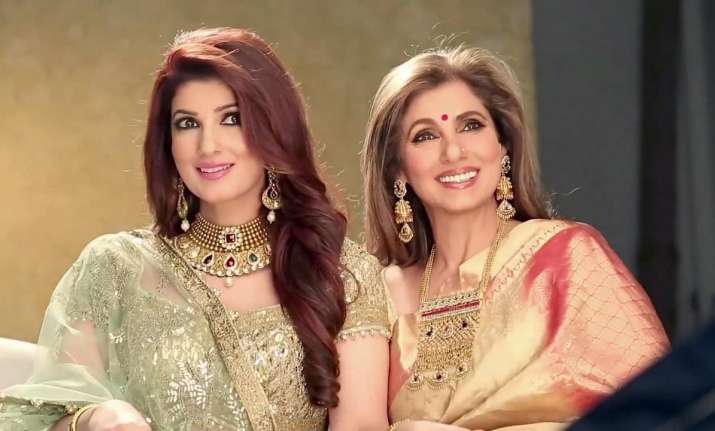 Twinkle and Dimple, as phonetically alike they sound, resemble each other totally looks-wise also. The exact same face cut, they look like each other's replicas! Twinkle Khanna is the elder daughter of late legendary actor, Rajesh Khanna and Dimple Kapadia. In a recent post on her Instagram, Twinkle proved how every mother 'know the best'. Sharing the following picture on social media, Twinkle wrote. A relaxing weekend despite being part of a group with almost a dozen children. In love with #hiltonshillim #ASliceOfHeaven P.S Mom has been telling me about it for ages and finally, I am here! The few times when you have to admit that mother knows best."
5. Soha Ali Khan and Sharmila Tagore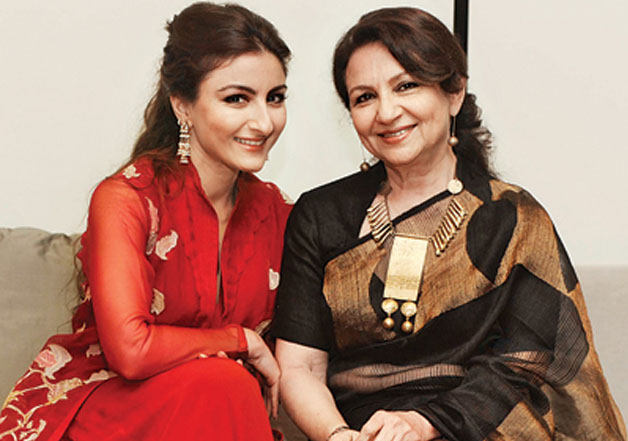 Soha Ali Khan was born on October 04, 1978, to Sharmila Tagore and Mansoor Ali Khan Pataudi. Soha is married to Kunal Kemmu and is a mother to their baby girl, Inaaya Naumi Kemmu. During Soha's pregnancy, Sharmila ji supported her daughter a lot. In an interview with the Hindustan Times, Soha once shared:
"My mother always says you don't have to be your child's best friend, you want to be a mother. So you have to know if they are being made fun of at school, if they are uncomfortable with the way they look, as a lot of these things happen because of peer pressure. Be alert and notice the signs, be it anorexia or bulimia, or any other body image issues."
6. Shruti Haasan and Sarika
One of the most popular actresses in the South Indian film industry and Bollywood, Shruti Haasan is the daughter of legendary actor, Kamal Haasan and Sarika. Shruti was born during her parents' live-in relationship when Kamal had not divorced his previous wife, Vani. But just like her mom, Shruti too has come a long way in the film industry.